Crane Trip to Cheorwon DMZ (January 2022)
Cheorwon, Asia's largest crane habitat
We will guide you to the crane paradise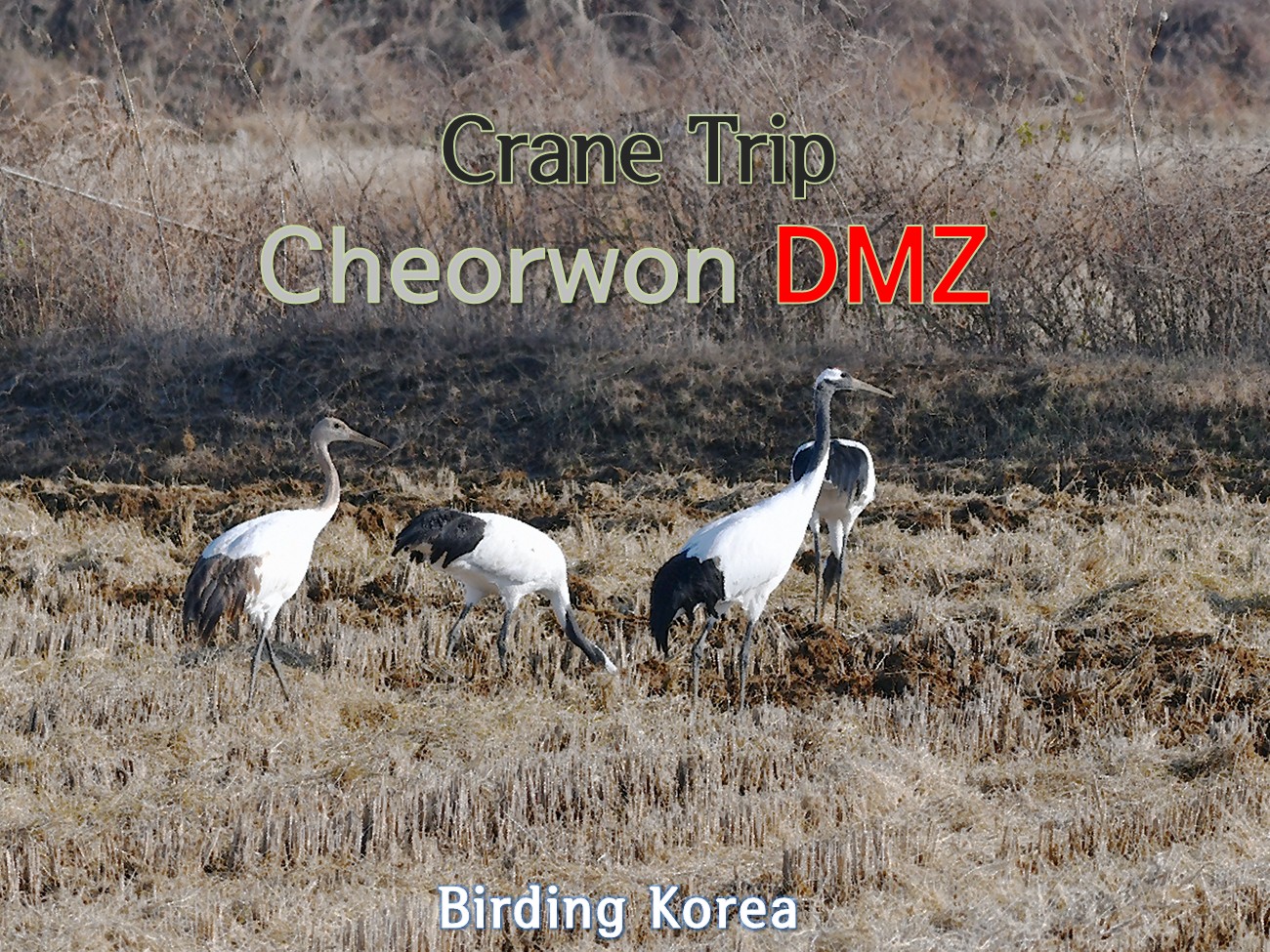 Venue: Han River Upstream ~ National Arboretum ~ Cheorwon DMZ
Date: January 30(Sun) ~ 31(Mon) 2022
Number of attendees: 6~8 people
Participation fee: US$350 (420,000 Won)
Single supplement: US$50 (60,000Won)
Departure point in Seoul: Seoul station
Birdwatching level: Basic~middle
Schedule
Day 1
08:00 Departure in Seoul
09:00 Birding in Han River Upstream
12:00 Lunch
13:00 Birding in National Arboretum
16:00 Birding in Cheorwon rice field
18:00 Dinner
19:30 Free time & sleeping
Day2
06:30 Birding in Cheorwon reservoir
08:30 Breakfast
10:00 Birding in Cheorwon DMZ
14:00 Lunch
15:00 Birding in Hantan River
16:00 Departure in Cheorwon
19:00 Finish in Seoul
Target Birds
Cranes (Red-crowned, White napped + @)
Raptors (Steller's Sea-Eagle, White-tailed Eagle, Cinereous Vulture + @)
Geese & Ducks
Winter Passerines
Register! Click below! (deadline: December 5)
https://forms.gle/GBN59KwhRKo9S4yv7
Included: Local guide, accommodation, transportation, and 4 meals

If you make a payment within 24 hours after submitting the registration form, your registration will be confirmed.

Payment method 1: bank transfer | Hana Bank 174-890024-90204

Payment method 2:

PayPal | birding.kr@gmail.com

Accommodation is divided into males and females and 2~3 people share a room.

The itinerary may be canceled or changed depending on the weather and local conditions.

Travel may be canceled or postponed depending on the COVID-19 situation.

If this schedule is canceled, it will be rescheduled between January and February.