A birding trip on the Remote island of Yellow Sea
: Seoul - West Coast - Remote island - West Coast - Seoul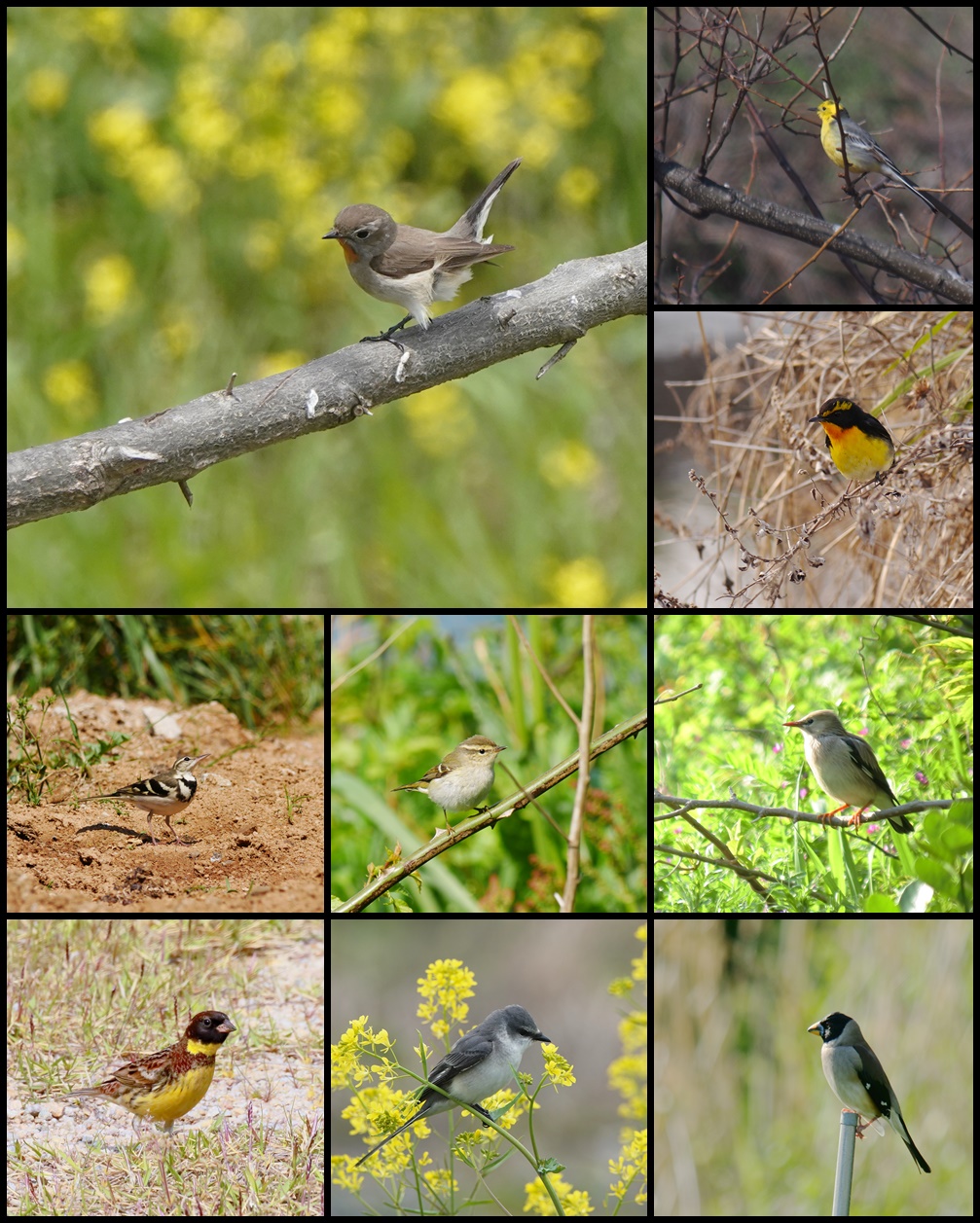 Birding site : Remote island of Yellow Sea
Google map link : Oiyeon island
How far from Seoul : 2.5-hour driving & 2-hour ferry(Oiyeon island)
How to bird : walking
Main Target : Yellow-breasted bunting
Main Family : wagtails, pipits, starings, minivet, flycatchers, warblers, finches, buntings

Best Season : mid-April ~ mid-May
Recommended tour day : 2~3 days
Minimum tour day : 2 days
* There are many remote islands, Oiyeon island is one of them.
Targets :
Chinese Pond Heron
Temminck's Cormorant
European Hobby
Japanese Sparrowhawk
Eurasian Sparrowhawk
Grey-faced Buzzard
Eurasian Oystercatcher
Black-tailed Gull
Vega Gull
Mongolian Gull
Common Cuckoo
Oriental Cuckoo
Lesser Cuckoo
Brown Hawk-Owl
Fork-tailed Swift
Oriental Dollarbird
Eurasian Wryneck
Great Spotted Woodpecker
Ashy Minivet
Tiger Shrike
Brown Shrike
Black-naped Oriole
Black Drongo
Barn Swallow
Red-rumped Swallow
Light-vented Bulbul
Brown-eared Bulbul
Asian Stubtail
Korean Bush Warbler
Japanese Bush Warbler
Oriental Reed Warbler
Dusky Warbler
Yellow-browed Warbler
Pallas's Leaf Warbler
Arctic Warbler
Pale-legged Leaf Warbler
Eastern Crowned Warbler
Japanese White-eye
Daurian Starling
Chestnut-cheeked Starling
Red-billed Starling
White-cheeked Starling
White's Thrush
Grey-backed Thrush
Pale Thrush
Naumann's Thrush
Dusky Thrush
Siberian Rubythroat
Siberian Blue Robin
Orange-flanked Bush Robin
Black Redstart
Eurasian Stone Chat
Blue Rock Thrush
Grey-streaked Flycatcher
Dark-sided Flycatcher
Asian Brown Flycatcher
Yellow-rumped Flycatcher
Narcissus Flycatcher
Mugimaki Flycatcher
Taiga Flycatcher
Blue-and-White Flycatcher
Forest Wagtail
Yellow Wagtail
Citrine Wagtail
Grey Wagtail
White Wagtail
Richard's Pipit
Olive-backed Pipit
Brambling
Grey-capped Greenfinch
Yellow-billed Grosbeak
Tristram's Bunting
Chestnut-eared Bunting
Little Bunting
Yellow-browed Bunting
Yellow-throated Bunting
Yellow-breasted Bunting
Chestnut Bunting
Yellow Bunting
Outline
Remote islands in the Yellow Sea are

the most famous

sites for migratory small birds

.

There are many

great birding islands in Korea. You will be staying on one of the islands between Beakryeong, Oiyeon, and Eocheong.

You will have a chance to enjoy shorebirds on the way if the tidal time and

height

match your schedule.

This Trip starts and ends in Seoul.

This trip is designed to go birding for 2

days at least, and the tour period can be ext

ended if you want.

Included in the cost

: Accommodation(twin bedroom or Korean-style floor-heating room in case of 2-day trip), all meals including picnic lunches, bottled water, transportation, all park entrance fees, and the services of local guides and leaders.

Not included

: International airfare, insurance, visa fees, departure tax, excess luggage charges, drinks, tips, and items of a personal nature.
After you submit your booking request, please send your deposit to our PayPal account birding.kr@gmail.com.
If you have any questions, please e-mail us at

birding.kr@gmail.com.