Birding trip in the vast mudflat & rice filed in West Coast
: Seoul - West Coast - Seoul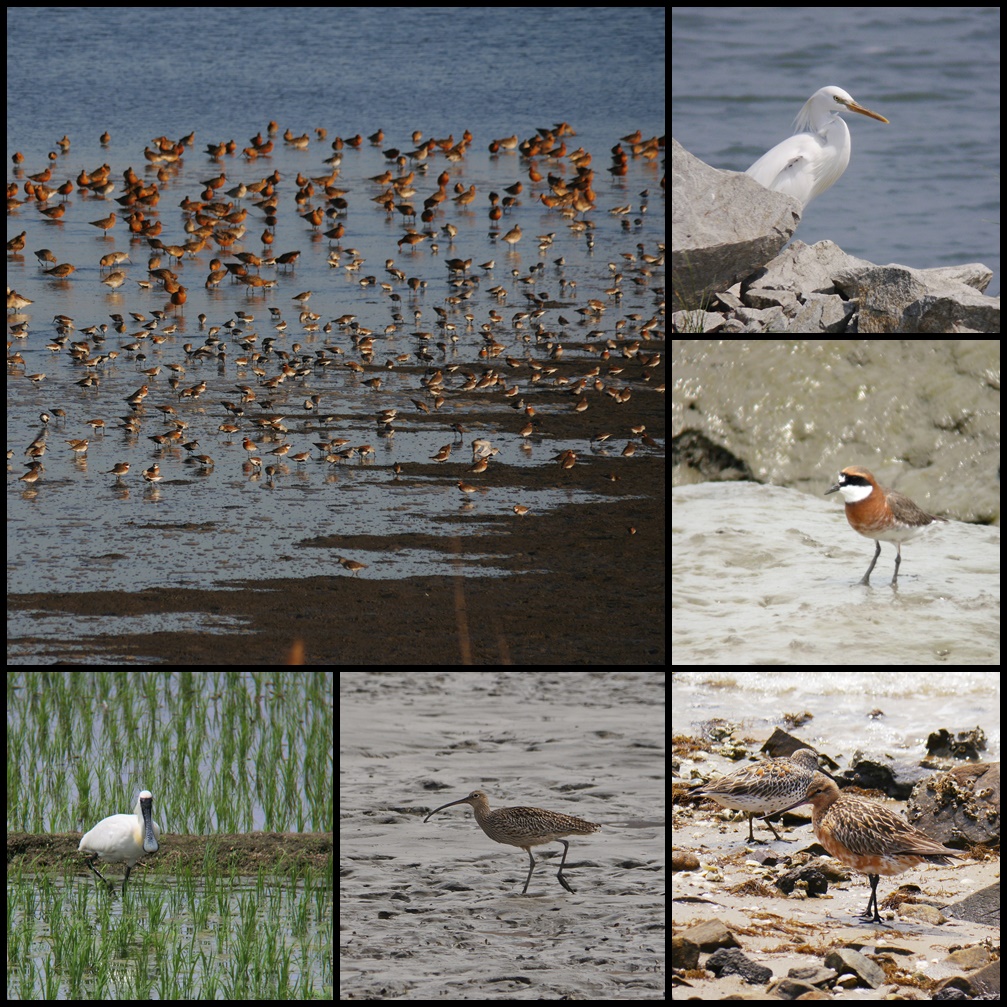 Birding site : mudflat & rice filed
Google map link : Ganghwa, or Hwaseong lake, or Cheonsu bay
How far from Seoul : 50~150km
How to bird : driving & walking
Main Target : Black-faced spoonbill, Chinese egret
Target Family : Shorebirds, ducks, flycatchers, warblers, finches, buntings
Good Season : April ~ June
Recommended tour day : 1 days
Minimum tour day : 1 days
Targets :
Eastern Spot-billed Duck
Ring-necked Pheasant
Little Grebe
Oriental Turtle-Dove
Eurasian Coot
Eurasian Oystercatcher
Black-bellied Plover
Long-billed Plover
Little Ringed Plover
Lesser Sand-Plover
Kentish Plover
Little Ringed Plover
Whimbrel
Far Eastern Curlew
Eurasian Curlew
Bar-tailed Godwit
Sharp-tailed Sandpiper
Black-tailed Godwit
Ruddy Turnstone
Great Knot
Red-necked Stint
Dunlin
Terek Sandpiper
Common Sandpiper
Green Sandpiper
Gray-tailed Tattler
Common Greenshank
Wood Sandpiper
Saunders's Gull
Black-headed Gull
Black-tailed Gull
Little Tern
Intermediate Egret
Chinese Egret
Little Egret
Cattle Egret
Black-faced Spoonbill
Eurasian Sparrowhawk
Common Kingfisher
Eurasian Kestrel
Bull-headed Shrike
Azure-winged Magpie
Large-billed Crow
Japanese Bush Warbler
Vinous-throated Parrotbill
Daurian Redstart

Outline
Vast mudflat and rice field are one of the best birding spot for shorebirds in spring season.

There are many great birding mudflat and rice field in Korea. You will visit one of the places among Ganghwa island, Hwaseong lake and Cheonsu-bay.
This Trip starts and ends in Seoul.
This trip is designed to go birding for 1 day. The tour period can be extended if you want.
Included in the cost : Accommodation(twin bed room or Korean-style floor-heating room in case of 2 day trip), all meals including picnic lunches, bottled water, transportation, all park entrance fees, and the services of local guides and leaders.
Not included : International airfare, insurance, visa fees, departure tax, excess luggage charges, drinks, tips, and items of a personal nature.
After you submit your booking request, please send you deposit to PayPal account birding.kr@gmail.com.
If you have any questions, please e-mail us at birding.kr@gmail.com.